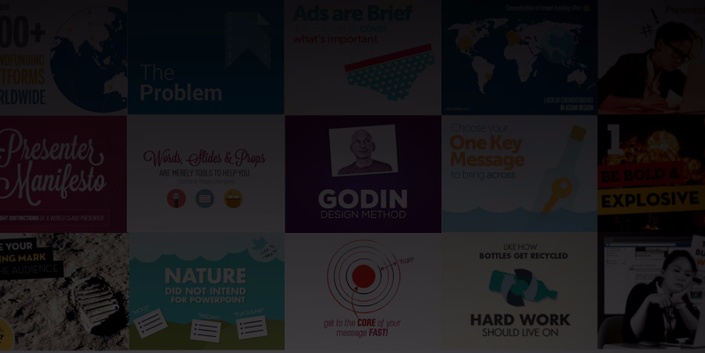 Slides That Sell: Advanced Guide to Building Stunning Presentations
Step-by-Step guide to building beautiful presentations that get millions of views
Watch Promo
LEARN HOW TO DESIGN AWARD WINNING PRESENTATIONS THAT GOT ME 2 MILLION VIEWS ON SLIDESHARE, 400+ EMAIL LEADS EVERY MONTH AND A GIG THAT PAYS ME $5000 FOR EACH PRESENTATION I MAKE
What if you could create visual masterpieces that people are dying to share and talk about. Learn the art of presentation and graphic design from a slide master.
Get the EXACT 5-step system I use with ALL my Fortune 500 clients to create jaw-dropping presentations in under 2 hours. You'll be able to do this…
…Even if you have ZERO design skills coming into this course
…Even if you have NO TIME in your day to master one more thing
…Even if you simply DON'T BELIEVE you can ever do it
Along with the system, we have bundled in over $1500 in bonuses from our partners…20 professionally designed plug & play SlideShare templates that have earned myself and my company over 3,000,000 views…and a ton more!
Sound interesting?
Read on below…
---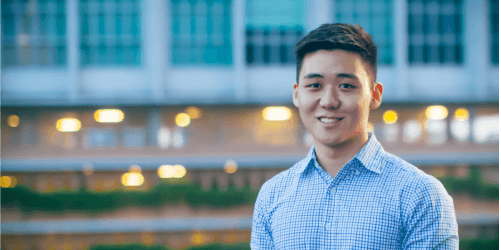 What's up – My name is Eugene Cheng – I'm from Singapore and in high school, I got a C in my graphic design elective (I sound like an AA member).
For all intents and purposes I should NOT be designing presentations…let alone anything…for anyone but yet here I am making a full-time living doing it.
And I love it.
Creating presentations that people fall in love with makes me supremely happy.
But the truth is I spent a ton of time getting here and this skillset WASN'T developed overnight but my hope is that this course helps you cut through the last 5 years of learning for me.
Here's my journey…
FROM C-STUDENT TO PROFESSIONAL DESIGNER
In high school (yea, I am that young), I was really struggling especially my design elective where I couldn't manage anything above a C.
I knew I needed something to get a leg up on my classmates and help me graduate because the way I was going – there was no way I'd make it.
One day, while searching online I came across the presentation by Jesse Desjardin "Why You Suck at Powerpoint" and I was in awe.
How could someone get over 1,000,000 views from ONE SINGLE presentation and become an instant rock star in the content marketing world?
Literally, everywhere I looked, HubSpot, KissMetrics, etc. people would mention Jesse and this ONE presentation – as if he were a god…a Presentation God.
I was immediately hooked.
With no design ability whatsoever, I immersed myself in the teachings of the top design gurus to steal their best kept secrets. This included people like:
Garr Reynolds
Nancy Duarte
Lee Lefevers
and many more…
The next year back at school, I immediately noticed the difference in business class.
Simply put, business students aren't super creative and learning about presentation design from the masters had made me a better communicator than them.
Not to toot my own horn but by learning the principles of design, I had learnt how to break a message up into its most important parts and present them.
That's the key to communication and as an extension – design.
That year, I ended up acing all my projects and wanted desperately to share this newfound knowledge with everyone I could find that was struggling like me.
So I went back to SlideShare and started talking to guys like Emiland De Cubber who made the famous "Dear NSA" deck that got him 13 media features on outlets like Forbes, Business Insider and more. (he's featured in our course).
These experts encouraged me to put out my first deck even though I was terrified that I would be judged for creating something laughable.
I spent ONE month putting together that first deck…
…working nights and weekends to make it the perfect presentation – all along referring to the books I had so carefully studied and talking to everyone I could find on SlideShare.
One month later popped out "5 BIG Tips to Becoming a SlideShare Jedi" which featured Star Wars action figures shot by epic photographer JD Hancock.
It was an INSTANT viral hit.
10,000 views, 20,000 views, 50,000 views – the view count just kept climbing on SlideShare until I hit the 100,000 mark and was featured on the SlideShare homepage.
AND THEN THINGS GOT CRAZY
Leads start pouring in from all over the world – everyone wanted to hire me to work for them.
I eventually got my first gig doing a presentation for a cheesecake shop called I Love CheeseCakes that paid me $500 which was a ton of money for me back then.
Next, Victoria brought me in to work with her clients for which I was paid another $1000…then a Fortune 500 company came calling and I was working next to the CEO earning $50 per hour at 20 years old and banked another $2000.
It was a whirlwind and at this point I ONLY had 1 presentation out there.
And then finally (coming to the end the story now – it's really nostalgic for me) I was offered the opportunity to present at a startup event called Startup Dynamo.
The presentation I made and uploaded to SlideShare ended up being the deck that really got my name out there earning me over 900,000 views!
That brings me to today where I run an agency, HighSpark with my partner Kai Xin dedicated to creating presentations for the biggest companies in the world including Panasonic, Nike and many more for which we charge an average of close to $5000 per presentation.


So why am I telling you all this
We'll it's because here's the hard truth…
IF YOU SUCK AT DESIGN, ALL THE FREE TEMPLATES, STOCK IMAGES AND ICONS IN THE WORLD WON'T HELP YOU MAKE SOMETHING THAT LOOKS GREAT
Everywhere you look there is a list of free presentation templates this or get this 100000 pack of icons for absolutely free – but there's more than just the materials that make a compelling presentation.
It's about the story, the look, the feel – everything coming together to leave a lasting impression on viewers – doesn't matter if it's for a start-up competition or for your next consulting client.
Ask Yourself This: If I gave you everything you needed tomorrow – templates, stock images – everything – would you be able to create something TRULY memorable? Would you know…

How to create a story that people are dying to talk about and share
How to get people desperate to find out more and opt-in to your lead magnets
How to choose the perfect layout and imagery for each and every slide you make
Why not? What separates great designers from you? Theoretically, you could find all their templates online – pop in your own content and you'd be off and running.
But it doesn't work like that does it. No matter how hard we try, we just can't make them LOOK like what the professionals did. It can be so terribly frustrating.
Believe me – it took me a long time to realize this. I used to think design was simple, just throw some images on a PowerPoint and you're good to go.
But if you're reading this, you know it doesn't work like that.
If the content and materials alone were the only things that mattered, EVERYONE would be making the most amazing presentations ever.
The truth is there's something missing from that equation…
…and that is mastering the principles of presentation design.
WHAT IF YOU COULD TURN A SET OF WORDS ON A FEW SLIDES INTO THE MOST BEAUTIFUL PRESENTATION YOU CAN IMAGINE
Staring at a blank canvas with no idea what to do can be the most daunting situation to be in – especially when you have no help and can't afford to hire someone to do it for you. You end up creating something that looks like these:
But what if I could give you the tools and more importantly the skillset to knock out stunning presentations at WILL and in record time. What would that do for your life and business?
Would it help you close that round of financing with potential investors in your startup?
Would it help impress a client so much that they believe if you created such a quality presentation you will surely put that quality into their work?
Would it lead to 10s of thousands of views on SlideShare and a constant flow of new leads for your website and business
This is not a superlative
WE'VE USED OUR PRESENTATION DESIGN SKILLS TO HELP STARTUPS RAISE $450,000 FROM INVESTORS, CREATE AWARD-WINNING PRESENTATIONS AND DRIVE THOUSANDS OF QUALIFIED LEADS TO OUR BUSINESS.
I've seen with my own eyes how investors eye's light up to an amazing presentation and conversely how a bad one can make their pocket books go limp. On SlideShare where we've made our mark – two of our presentations have been awarded as one of the top presentations of the year two years running (2014, 2015).
Moreover, I have been using SlideShare to drive 400+ email leads every month to our business, applying lessons the exact lessons we'll be teaching inside this course. Here's a snapshot of my Mailchimp account for April to November of 2015.
P.S. the opt-ins from this graph are only from a SINGLE Slideshare Presentation. Imagine how much more you could do if you scaled this up!
To go along with this, presentations we've made have been viewed by upward of 3M people over the last couple years and I can almost guarantee what I create will make it to the top 3 on the SlideShare homepage. Here's a recent shot from 10th Jan 2016:
If you're reading this I hear concern in your voice – maybe you're thinking to yourself I could never do this, I just don't have your ability. We'll we wanted to find out what people thought so we surveyed over 8,000 people from professional speakers to startup founders to consultants and even some teachers…
TELL ME WHICH ONE OF THESE WORRIES SOUND FAMILIAR AND IS HOLDING YOU BACK FROM BEING A WORLD-CLASS PRESENTATION DESIGNER
"I only make ugly presentations no matter how hard I try"
I was never a great designer but once you learn the core tenants of presentation design, really anyone can apply them and be successful. The key is to get to 'Good Enough', everything else is fluff. We'll hold your hand and teach you exactly how to use stock images, layouts, colours and typography to get the most out of your presentations. You do not need to be stuck in presentation purgatory forever…this is the road out. "Man, I seriously don't have any time in my day to create presentations"
How does 2 hours of your time sound for a world-class presentation that got me 85,000+ views on SlideShare? I do it all the time, even for my clients and I'll even show you a time-lapse of me building one inside the course! It's an approach that I've taken more than 3 years to perfect and I'll share with you exactly how it's done. After going through my training, I am confident that anyone will be able to replicate the same process. "There's no money in presentations…I should just stick to Facebook"
Tell that to Ross Simmonds who created $20,000 worth of presentations for SlideShare. He's since used the attention he's received to book 2 speaking engagements from inbound leads that earned him his investment back and more. Then there is Conrad who sold $12,000 worth of subscriptions for his product from a SINGLE SlideShare presentation on Growth Hacking. If you don't think the way a presentation looks is a direct reflection of your brand and business than this is probably not the course for you.
WHEN I STARTED ALL THOSE YEARS AGO, I WOULD HAVE KILLED TO HAVE SOMEONE SHOW ME THE WAY RATHER THAN DO EVERYTHING MYSELF
In this course, I wanted to give you everything I didn't have when starting. I wanted you to be able to look over my shoulder as I put together a presentation from scratch pixel by pixel.
As a result, I've broken down each component of building a presentation into 6 core steps I call the S.P.I.L.L system. Inside, you'll learn everything from how to structure your story to the more design related elements of the look, imagery and layout of your actual slides.
Here's how it all breaks down:
INSIDE THE SLIDES THAT SELL COURSE
MODULE 1: BREAKING THE MOULD – 2HR PRESENTATION FRAMEWORK
The EXACT tools and resources I use everyday in my business creating presentations for the top Fortune 500 clients in the world
Choose your own adventure: Learn how to navigate this course so that you can jump to the part that is most relevant to your goals and skill-sets
The three biggest challenges you will face designing presentations and how this course will help you overcome them and excel
The secret sauce behind the biggest brands in the world like Nike and how they create a seamless design experience throughout their imagery
The hidden and untapped potential of SlideShare and why you need to be flexing your presentation muscles on it today
MODULE 2: MY $5000 PRESENTATION SYSTEM REVEALED
The exact step-by-step process I use to create winning presentations for startups, corporations and even for SlideShare in under 2 hours
Understand why most 99% of people struggle to put together presentations really fast (hint: they are focusing on the completely wrong things)
Introduction to the 3Ps of presentation design that you can use to approach your next presentation design session
How to know when you are over engineering a presentation and stop yourself from falling into an endless loop of changes
MODULE 3: CREATING A COMPELLING STORY
The one thing you need to do before even putting a word down and why most people fail before they even get started
Learn the secret structure behind compelling presentations and how to measure the ultimate success of your next presentation
Create a presentation storyboard in 30 minutes or less by understanding the deepest, darkest fears of your audience so you persuade them to take action
The famed 'Bridge' System for presentation storylines that captivate the imaginations of readers and bring them to exactly where you want them
MODULE 4: GETTING TO THE POINT
What great ads and presentations have in common
How to build slides that amplify, not overwhelm
Using anecdotes in your presentations to become more persuasive
MODULE 5: THE COMPLETE GUIDE TO IMAGERY
How to use images to impress and bewilder
Picking the right images for your presentations
Where I find my images and how I use them
MODULE 6: CREATING A PRESENTATION THAT LOOKS LIKE A PRO
Backgrounds – the 80/20 technique for better-looking presentations
How to match fonts like a designer without design knowledge
Making your presentation images consistent in 30 seconds
Why color theory is a waste of time and how you should pick colors fast
MODULE 7: PLUG-AND-PLAY LAYOUTS
The rule of thirds – what they didn't tell you
Re-using layouts for consistency and time savings
How to lay out typography even if you aren't creative
Fail-proof layouts you can swipe
Hiearchy – A simple design principle that will make your presentations 5x better
Why you should 'steal' like a presentation designer.
MODULE 8: GROWTH HACKING YOUR PRESENTATION
The perfect marketing eco-system – inside the EXACT system and tools we use to develop our marketing and amplification machine
How to leverage the good-will of major influencers to skyrocket the view and share count of your next SlideShare presentation
Back to basics landing pages – how to craft landing pages in 5 minutes that look fantastic and are sure to convert your potential lead
But wait…there's more!
OVER 10 HOURS OF PREMIUM VIDEO FEATURING THE TOP PRESENTATION AND SLIDESHARE DESIGNERS IN THE ENTIRE WORLD
This alone is worth the price of admission.
Did you catch the SlideShare summit? If not, we've taken all the videos, all the precious advice from the top 1% of SlideShare users and kept it for you guys buying the course.
We're talking about guys who have over 10M views on their presentations and who make presentations for people like Guy Kawasaki, Chris Brogan and many other household names.
What's their advice worth to you?
Learn how:
Emiland had Fortune 500 companies knocking down his door for a deck redesign
Ross Simmonds sees SlideShare and visual inbound marketing evolving over the next few years
Kenny built up his agency Big Fish Presentations and how he used SlideShare to power its growth
Scott creates cutting edge and viral decks for world renown brands like Guy Kawasaki and others
Cory & Yancey used SlideShare as their ONLY marketing tool to build a six figure business
We even did interviews with Conrad Wadowski who made over $12,000 from leads that came from one presentationhe made on Growth Hacking and Jake Wengroff whose company, Frost & Sullivan made $250,000 from leads that came from SlideShare.
Get behind the scenes with these top presentation designers and see what makes their work stand out from the rest and get's them enormous results from using SlideShare.
TRY "SLIDES THAT SELL" FOR A FULL 30-DAYS, 100% RISK FREE
Here's my promise to you guys – I believe so much in this product that if you don't absolutely LOVE it, I will HAPPILY return 100% of your money back no questions asked.
Let me tell you why I'm giving this offer – when I first started on my design journey, I had zero material to look at, only books as a reference point. I wish there had been a course that let me see over an experts shoulder to see exact how they created their magic.
This is the course I wish I had had all those years ago.
We've poured over 6 months into producing the material and have worked tirelessly with our partners to bring you a crazy package worth well over $2000. I stand by the fact that if you take this course and follow ALL the material, you will become a great presentation designer yourself.
This process has worked with my Fortune 500 clients and with people I have personally coached so I know it works.
So If you struggle to make compelling presentations that turn into 6 figure business deals, help you close funding rounds for your startup or simply to get traffic and leads for your business through SlideShare this is the course you need to get. Period.
Your Instructor
Eugene is a highly sought-after Presentation Strategist with HighSpark. His skills have been recognized by SlideShare who named him a Keynote Author – given to only 1% of LinkedIn SlideShare's global user base. His guidance has been instrumental in helping Nike, Dentsu and other Fortune 500 companies make an impact with their presentations. Eugene also speaks on Pitch Design and Presentation Productivity at events like the Startup Dynamo, Youth Entrepreneurship Symposium and The Chaos Asia.
Course Curriculum
Introduction
Available in days
days after you enroll
S.P.I.L.L Framework
Available in days
days after you enroll
Structuring a Persuasive Story
Available in days
days after you enroll
Frequently Asked Questions
When does the course start and finish?
The course starts now and never ends! It is a completely self-paced online course - you decide when you start and when you finish.
How long do I have access to the course?
How does lifetime access sound? After enrolling, you have unlimited access to this course for as long as you like - across any and all devices you own.
What if I am unhappy with the course?
We would never want you to be unhappy! If you are unsatisfied with your purchase, contact us in the first 30 days and we will give you a full refund.